What:
Redwood Audio is an up and coming custom shop which designs and builds one of a kind instruments, audio effects and other audio-centric projects for the musicians who inspire them (and sometimes ourselves). We are honored, if in the process, we have inspired you to explore with your own hands. For that, we offer a growing collection of Do-It-Yourself resources, notes and links to valuable references.
Why:
Redwood Audio is an experimental and creative outlet for its founder and members. It is founded on a fundamental love of audio and the visceral experiences shared by those who create, play, and listen. We are dedicated to facilitating experimentation and exploration in a musical world with an emphasis on artistic process, craftsmanship, and a personal "voice". We believe nothing shapes that "voice" or inspires more than having a hand in creation from the ground up.
Where:
We are currently operating in start-up mode from a location in beautiful Aptos, CA - part of the greater Santa Cruz area nestled comfortably between the Pacific Ocean and Coastal Redwood forests of the Santa Cruz Mountains.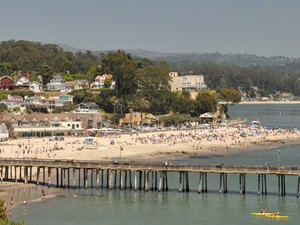 At this time, we do not operate a storefront or shop which is open to the public.
Who:
All functions are currently served by our "Chief Audio Philosopher" and Luthier, Edward Stein. Edward has a long history in the audio industry - serving in various roles from technical support, hardware/software quality assurance, and critical listening evaluation to research and algorithm design for companies such as E-MU Systems, Creative Labs, Inc., and most recently with DTS, Inc. where he currently serves as Director of Spatial Audio R&D. Edward is a named inventor on several patents and patent applications for audio post-processing technologies as well as primary inventor on a provisional for a method of wireless MIDI merging and distribution.
While by no means a professional musician, Edward is a self-guided student on a personal journey with various instruments including percussion, keyboard/synth/samplers and electronic instruments, bagpipes and of course, guitar. This is fueled by an experimental but passionate interest in all things musical and a growing interest in Lutherie.
It is the intersection of these passions where Redwood Audio begins. Though avoiding direct competition with his primary employer must shape some aspects of what is explored here - Redwood Audio serves as a gateway for us to explore many other roads in the world of music and audio, and we are excited to share them with you.